23rd Sunday in Ordinary Time
A Homily - Cycle A - 2004-2005
First Reading - Ezekiel 33:7-9
Responsorial Psalm - Psalm 95:1-2, 6-7, 8-9
Second Reading - Romans 13:8-10
Gospel - Matthew 18:15-20
Matthew wrote to show that Christ was the
Messiah and fulfilled the Jewish prophecies.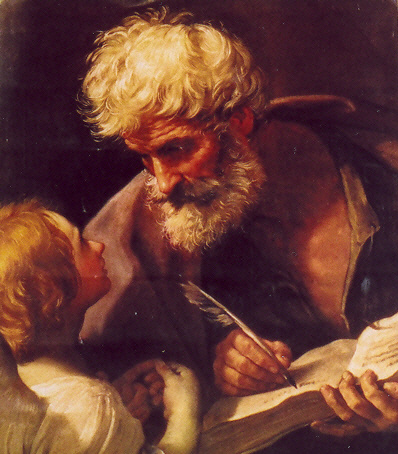 If your brother sins (against you), go and tell him his fault between you and him alone. If he listens to you, you have won over your brother. If he does not listen, take one or two others along with you, so that 'every fact may be established on the testimony of two or three witnesses.' If he refuses to listen to them, tell the church. If he refuses to listen even to the church, then treat him as you would a Gentile or a tax collector. Amen, I say to you, whatever you bind on earth shall be bound in heaven, and whatever you loose on earth shall be loosed in heaven. Again, I say to you, if two of you agree on earth about anything for which they are to pray, it shall be granted to them by my heavenly Father. For where two or three are gathered together in my name, there am I in the midst of them."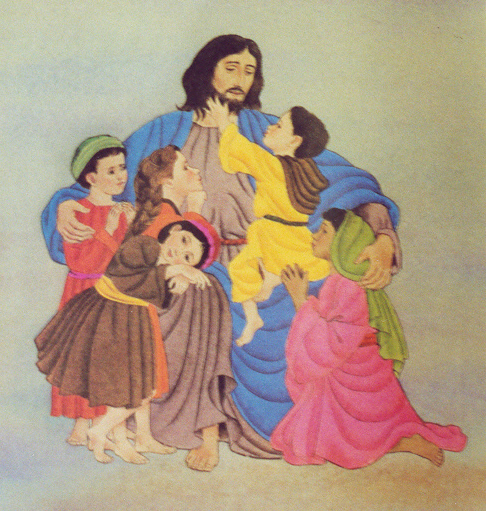 The Gospel we just heard ends with very comforting words, "For where two or three are gathered in my name, there am I in the midst of them." These words perhaps evoke heartwarming images of a group of monks chanting the Divine Office in a monastery or soldiers attending Mass being offered off of the back of a military jeep or children gathered in prayer before school begins or a small country parish of 15 families joined together at Holy Mass on Christmas morning.
And, as comforting and reassuring as these images may be, we might overlook one important detail: the context in which Jesus makes this statement about being gathered in His name. The context of these comforting words are actually found within the paradigm of something quite uncomfortable: which we call fraternal correction. Fraternal correction is the art of charitably correcting or reproving another person for their sin and helping to move them to conversion. We should take note of several important facets of this art:
1. We must engage in fraternal correction when it is called for. The first reading from Ezekiel explicitly tells us that if we do not dissuade a wicked person from his way, the wicked person will die, but God will hold US responsible for his death. If, on the other hand, we try to dissuade a wicked person from their evil ways and they still do not listen, the wicked person will surely die, but we will be saved. Therefore, no one can excuse themselves from performing fraternal correction, as if to say, "That's none of my business. I'm staying out of it." We are all each other's business because we are all members of the same Body of Christ. To overlook or ignore another's sin, says Ezekiel, can get us in big trouble.
2. Fraternal correction must be over SIN. Fraternal correction does not apply to tastes or preferences, but to sins. Jesus says, "If your brother SINS against you. . ." It is tempting to correct someone under the guise of fraternal correction, when in fact, the infraction is nothing sinful. But we should not take this so far as to ignore actions that show a lack of prudence. After all, prudence is a virtue and violations of prudence are always sinful.
3. The art of fraternal correction must be respected. Correction must be done in charity. At first, it should be done in privacy between you and the offender. If that proves fruitless, then others may be brought in so as to collaborate the charge. If that does not suffice, the matter should be referred to the Church and if that does not work, the person may be excommunicated by the Church - what Jesus means by treating the offender as a tax collector or Gentile.
4. Excommunication is a medicinal penalty - it is intended to heal and restore the sinner. The media portrays it as a form of Catholic capital punishment. It is not. In an excommunication, the offender is given time to repent. If they refuse, they are barred from the sacraments, because their participation in the sacraments presents a scandal to Catholics who do believe and obey the teachings of Christ. And yet, even an excommunicated person, can always return to the Church if they make proper penance and restitution.
St. Paul reminds us that "Love does no evil to the neighbor." Fraternal correction, when done properly and charitably, is tough love, but love nonetheless. It is no act of love to allow sinners to persist in their evil ways. It is a heroic love to confront the sinner while admitting one's own sinfulness, and having the courage to help move the sinner to repentance and conversion.
Praised be Jesus Christ! Now and forever!
If you find this material valuable, consider a tax deductible gift to support this site.
The DaCapo Foundation • 2402 Tricia Ct. • Vienna VA 22181