The Holy Family
A Homily - Cycle A - 2004-2005
First Reading - Sirach 3:2-7, 12-14
Responsorial Psalm - Psalm 128:1-2, 3, 4-5
Second Reading - Colossians 3:12-21 or 3:12-17
Gospel - Matthew 2:13-15, 19-23
Matthew wrote to show that Christ was the
Messiah and fulfilled the Jewish prophecies.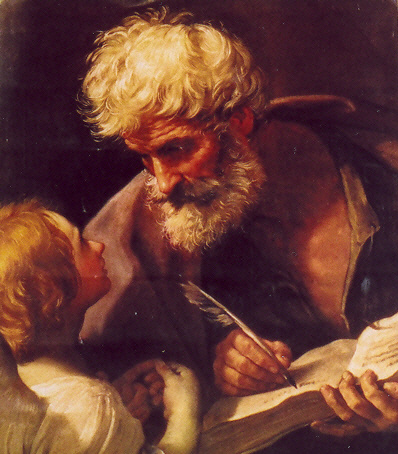 When the magi had departed, behold, the angel of the Lord appeared to Joseph in a dream and said, "Rise, take the child and his mother, flee to Egypt, and stay there until I tell you. Herod is going to search for the child to destroy him." Joseph rose and took the child and his mother by night and departed for Egypt. He stayed there until the death of Herod, that what the Lord had said through the prophet might be fulfilled, Out of Egypt I called my son.
When Herod had died, behold, the angel of the Lord appeared in a dream to Joseph in Egypt and said, "Rise, take the child and his mother and go to the land of Israel, for those who sought the child's life are dead." He rose, took the child and his mother, and went to the land of Israel. But when he heard that Archelaus was ruling over Judea in place of his father Herod, he was afraid to go back there. And because he had been warned in a dream, he departed for the region of Galilee. He went and dwelt in a town called Nazareth, so that what had been spoken through the prophets might be fulfilled, He shall be called a Nazorean.
It is Sunday, August 21, 1983 in Manila, in the Philippines. Just two weeks prior, then-president, Ferdinand Marcos declares a snap-election to prove to the world that he is still the Filipino people's choice as their chief executive. Marcos has invited Beigno Aquino, one of his lifelong political rivals back to Manila from the United States where Aquino was in political exile, to run against Marcos in this snap election. When Aquino arrives at Manila International Airport that Sunday in August, he is ruthlessly gunned-down by an assailant. Although it was never proven, popular sentiment pointed blame at Marcos, who seemingly set-up Aquino for certain death.
That Sunday, as is the custom on my mother's side of the family, our entire clan was gathered at my grandmother's house in downtown Manila for our traditional post-Mass Sunday feast. The assassination occurred at about 2 in the afternoon and by the time my family returned home from my grandmother's house, word was all over Manila that Aquino was dead. The feeling was that civil war was imminent. Marcos had taken control of all of the local television stations and exhorted the people to remain calm. No one knew for sure, what would happen next. As the political situation quickly deteriorated, my mother and her sisters made plans to have a charter boat waiting for us in Manila Bay, ready to whisk us off to Hong Kong on a moment's notice. So, for three consecutive nights, my family slept with our jeans on and bags packed. We could be bayside in 20 minutes. There was only one snag - one of my aunts, the doctor, happened to be the pediatrician of the Marcos grandchildren and was not going to be allowed to leave. In fact, she was under surveillance so that she could not leave the country. My mother and her sisters had to speak in code-language to try to figure out a way to get her and her family out of Manila if fighting began. One thing was clear, however - if my aunt and my cousins could not find a way to make it to the bay to leave with the rest of us for Hong Kong, then none of us would go - either we all went, or none of us did. These were the three of the most tense days of my life - days I will never forget. You can be rest assured that my family learned very quickly what it means to really stick together, no matter how adverse the circumstances are. Thankfully, due in large part to the Cardinal Archbishop of Manila, the situation did simmer down momentarily and no, civil war did not break out in the Philippines. Some of you are old enough to remember that it was Aquino's wife, Cory Aquino, who went on to defeat and oust Marcos in 1986 - the year of the Philippine People Power Revolution.
Every family has their story - the trials they've been through - the thrill of victory and the agony of defeat; the good times and the bad. Just a day after Christmas, Holy Mother Church asks us to take time today to contemplate the family life of Joseph, Mary and Jesus at Nazareth in four short acts: first, the common life of Joseph, Mary and Jesus; second, the relationship between Jesus and Joseph in the carpenter shop; third, the relationship between Mary and Jesus; and fourth - the relationship between Mary and Joseph.
First - The common life of each member of the Holy Family
Joseph, Mary and Jesus knew how to interact as a family and are a model for all families. John Paul II writes in the Sacred Constitution on the Family that the future of civilization passes through the family. That's a very global way of looking at family life. It's in the family that the children first learn about love: the love God has for them; the love their parents have for them and the love that their parents have for each other. Later, children learn how to love siblings and even later - members of the opposite sex, as they prepare for marriage and the opportunity to begin their own families. This has been going on since Adam and Eve and while the Holy Family should be our model and our guide, the Holy Family was but a reflection of a much greater family - the community of persons known as the Most Holy Trinity. All family life should be a reflection of the inner life of the Trinity - the persons of the Godhead pouring out themselves for the others. You have the Father pouring himself out for the Son and the Son for the Father. That love is so strong that a third person is breathed forward - the Holy Spirit. By analogy, the love among family members should find each member pouring themselves out for the other members. Of course, children can't love their parents in the same way parents love children but later on, when the parents are much older and not able to take care of themselves, children are to care for their parents in their old age. This is so true in Asian and Hispanic cultures - when parents get old, them simply move-ion with one of their children and their child's spouse and kids. Notice that you rarely find an Asian or a Hispanic in a nursing home - this is the reason why. Built-in to these cultures is the conviction that elderly parents, no matter how burdensome and inconvenient, should always be surrounded by family.
We also consider that Joseph, Mary and Jesus were on fire for the Law of Moses and the world of God. The Gospel tells us that they go to Jerusalem to fulfill the legal prescriptions of the Jewish code. Joseph and Mary could have easily said, "We don't need to present our Son to God in the Temple - after all, HE IS GOD!" Joseph and Mary could have excused themselves from their duties as good Jews. Their obedience, however was always grounded in their humble recognition that they were nothing more than servants of the divine plan. They knew that parents don't own their children but are merely stewards and guardians of these persons who are first and foremost God's children.
In the Holy Family, my heart always goes out to St. Joseph. I can't imagine what it would have been like to have lived with the son of God, on the one hand and Immaculate Conception on the other. Jesus and Mary could do no wrong. Yet, Jesus was subject to their authority - once again, the great humility of the King of Kings. Poor St. Joseph. . .
Act Two - Jesus and Joseph in the carpenter's shop
It was St. Joseph who taught our Lord the value of hard work, obedience, respect for elders and how to honor one's father and mother. Joseph also taught Jesus the Psalms, which every good Jew had to learn. In effect, Joseph helped teach Jesus how to pray. Those of us who are parents should ask, "Do I myself teach my children the Faith?" "Do I know the Faith?" "Does the instruction of my children in the Faith go beyond just merely giving good example - in other words, does the instruction I give my children in the Catholic Faith actually have real doctrinal content?" If we're shaky on the answers to these questions, I challenge you to find ways to rectify any shortcomings. There's an old Latin saying, Nemo quod dat no habet - you can't give what you yourself don't have. Perhaps parents need to learn the Faith better themselves so that they can have something to hand down to our children. As much as our Religious Education program teaches the Faith, it cannot replace the instruction that parents must give their children.
As much as I appreciate hearing confessions, one of the things that really breaks my heart is when I learn that many of our children in this parish don't even go to Mass every Sunday because their parents don't take them or because of a soccer game, thus depriving them of the Eucharist. What are we teaching our children when soccer is the center of our Sunday - is this keeping holy the Sabbath? So, I am not at all surprised that when I do marriage preparation for couples, most of them do not have more than an eighth grade knowledge of the Faith.
Next - The relationship between Jesus and Mary
Admittedly, there are volumes written on this topic, but I'd like to focus on just one facet - the fact that Mary taught Jesus how to be in constant communion with the Father and how to always be open to the will of the Father. Whatever Mary taught Jesus, it was of the kind of stuff that would later compel Jesus to lay down His life as our Savior. In the seminary, we used to like to joke that Mary was the first seminary rector - her Immaculate Heart was directly responsible for forming the Sacred Heart of Jesus. What an awesome responsibility she assumed when she said "yes" at the Annunciation. We do well to ask whether or not we are always as receptive to God's will as Mary was? When a young man or woman declares that they may have a religious vocation, do we support that calling by our words, deeds and prayers? Do we hold back from God the very individuals He wants for Himself? I have always been fascinated by the fact that the strongest opponents of my friends' vocations to the priesthood were their very parents. It wasn't the broken-hearted woman who he left behind or the employer who didn't want to lose a good worker. It was the parents. Can you imagine where we'd be if Mary had tried to stunt Jesus' desire to fulfill HIS vocation. I can't even begin to speculate...
Lastly - The relationship between Joseph and Mary
This is one of the greatest love stories ever known because this couple proves that love of God should be the primary love that each person should have. Marriage is intended to be a conduit for this primary love of God. Mary and Joseph reflect the total openness to God's will that every married couple should have - a sense that we are not in total control of our lives; a sense that it is God who actually directs the progress of our very existence. Mary and Joseph had very difficult lives as a couple - their relationship begins with a crisis pregnancy and the birth of the Savior in the poverty of a stable. Days later, they flee by night to Egypt and must endure life in a foreign country. Years later, Mary is left a widow. Through it all, however, this couple, above all couples, knew what it meant to love - to put oneself at the very service of the other for the purpose of helping that person get to heaven.
So, as we continue to gaze upon the Holy Family in the crèche scene of Bethlehem, let us ask each of them to teach us how to be more obedient and respectful as children; more docile to God's will as parents and more compassionate and supportive as spouses. We pray for all families - that they will strive to reflect the inner life of the Most Holy Trinity and learn that to die to self is to live in Christ Jesus.
Praised be Jesus Christ. Now and forever!
If you find this material valuable, consider a tax deductible gift to support this site.
The DaCapo Foundation • 2402 Tricia Ct. • Vienna VA 22181