The Philippine Madonnas
Introduction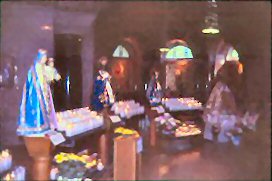 It is through Mary that we have received Jesus, the Son of God who died on the cross to redeem everyone. Mary offers us the loving concern each mother has for her children, and because she is our spiritual mother, she stands before the throne of the loving God solicitous for our spiritual and physical welfare.
Over the years, many have asked for her help. Sometimes she gives her aid immediately. At other times, after calm reflection, we can discern the hand of a loving mother protecting her children from danger. Always, she prepares us for the opportunity to accomplish greater tasks for God's glory.
History
Through the fourteenth century, Italian merchants controlled the trade routes from the East to Europe, and gathered large profits from their merchandise. Spices, precious stones, medicines, dyes, cloth, glassware, porcelain and rugs were in great demand and claimed high prices. But new inventions like the magnetic compass and instruments which measured latitude made sea travel safer and led other nations to discover their own sea routes to share in the wealth from this trade.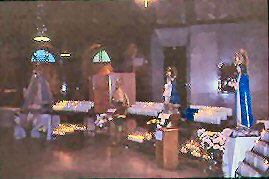 Portuguese navigators sailed southward around the tip of Africa toward the East while Spanish explorers sailed westward across the Atlantic. With the discovery of the new continent by Christopher Columbus, which was named after Amarigo Vespucci, Spain claimed the right to explore and settle its New World along with the Philippines which they conquered. Although the Spanish monarchs, Ferdinand and Isabella gave instructions that the natives and their possessions be treated kindly, Spanish officials often used harsh means to enslave the native peoples and obtain their wealth. Spanish missionaries were sent to convert the natives, and introduced religious devotions which the people flavored with their own particular local and national traditions. For this reason, one finds devotions to Mary, her statues and pictures, and the robes with which her image is adorned reflecting not only a Spanish influence, but also the local Filipino flavor which portrays her as a loving mother, provider, guide and protector.
Today
In 1985, the late Jaime Cardinal Sin of the Philippines brought eight images of the Madonna from the provinces to the United States for display and veneration at the Basilica of the Shrine of the Immaculate Conception in Washington, D.C. Their pictures which follow are accompanied by a brief description of the history of each which illustrates how our loving mother has cared for all of her children throughout the world.
Personal devotion of Our Lady is as varied as the ways any loving mother would care for, guide, and protect her children. Because of Mary's position as the Mother of God, the Holy Spirit who is her spouse, responds to our prayers, petitions, and the daily needs in our lives. The story of the Philippine Madonnas is a story of devotion, trust, and love for Mary who, like all mothers, desires the best for her children, which is to lead us to Christ, her Son.
Click on Mary's titles to learn the story of each
Our Lady of the Candle (Señora de Candelaria)
The Feeding Lady (Señora de Namacpacan)
Our Lady of Guidance (Señora de Guia)
Our Lady of Peace and Good Voyage (Señora de Antipolo)
Our Lady of The Rosary (Señora del Santissimo Rosario de Manaoag)
Our Lady of Caysasay (Señora de Caysasay)
Our Lady of Peñafrancia de Naga (Señora de Peñafrancia de Bicol)
Our Lady of Poon Bato (Señora Poon Bato in Botolan, Zambales)