Luke 1:39-56
Mary's Magnificat by Rev. Richard A. Miserendino
Reprinted with permission of "The Arlington Catholic Herald"
Home Page
To Sunday Gospel Reflections Index
Luke writes to explain that
Christ came to save everyone.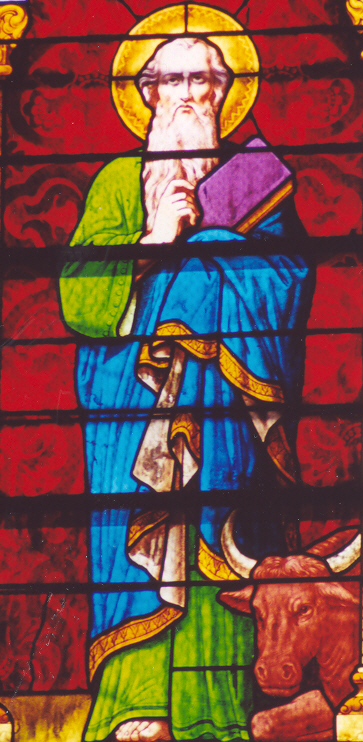 Mary set out and traveled to the hill country in haste to a town of Judah, where she entered the house of Zechariah and greeted Elizabeth. When Elizabeth heard Mary's greeting, the infant leaped in her womb, and Elizabeth, filled with the Holy Spirit, cried out in a loud voice and said, "Blessed are you among women, and blessed is the fruit of your womb. And how does this happen to me, that the mother of my Lord should come to me? For at the moment the sound of your greeting reached my ears, the infant in my womb leaped for joy. Blessed are you who believed that what was spoken to you by the Lord would be fulfilled." And Mary said:
"My soul proclaims the greatness of the Lord; my spirit rejoices in God my Savior for he has looked upon his lowly servant. From this day all generations will call me blessed: the Almighty has done great things for me, and holy is his Name. He has mercy on those who fear him in every generation. He has shown the strength of his arm, and has scattered the proud in their conceit. He has cast down the might from their thrones, and has lifted up the lowly. He has filled the hungry with good things, and the rich he has sent away empty. He has come to the help of his servant Israel for he has remembered his promise of mercy, the promise he made to our fathers, to Abraham and his children for ever." Mary remained with her about three months and then returned to her home.
In a rare turn of events, our regularly scheduled readings for this Sunday (typically from John's Gospel) take a momentary back seat as we celebrate the solemnity of the Assumption of the Blessed Virgin Mary. To wit: Mary, because of the awesome grace at work in her life and her role as Mother of God, was preserved from any corruption at the end of her life and taken up to heaven, body and soul. Thus, in terms of Scripture, we find ourselves transported to Luke 1:39-56, and to the familiar territory of the Visitation and the Magnificat.
Our passage from Luke's Gospel gives us a snapshot view of why Mary was assumed into heaven. Like a clip of footage from a documentary, we get a scene of Mary entirely immersed in God's Word and actively living in obedient service of that Word. Mary bears Jesus, the Word of God, within her by virtue of her grace-filled and obedient yes of faith. She is further obedient and serves the Word by visiting Elizabeth and sharing the joy of the word with her loved ones. Lastly, the presence of God intimately in her life so fills her with happiness that she literally burst into song with praise, paraphrasing Scripture in the process. Ever her words are the Word.
In short, Mary was assumed into heaven and union with the Word at the end of her life because it was the logical continuation of how she lived her entire life: Just as her earthly life was free from corruption and entirely united to the word, so too its end and continuation in eternity.
While there are many possibilities for further reflection here, the Magnificat itself is worthy of brief meditation. After all, it is prayed nightly by millions of priests, religious and lay faithful the world over.
Some recent biblical scholarship has tended to view the Magnificat with a bit of skepticism: How likely is it that a young woman just burst into song, quoting Psalms (e.g. Ps 34:3-4) and Scripture (1 Sam 2:1-10) with relative ease? Isn't that only for musicals? The critics opine that the Magnificat was not the words of Mary, but the work of a later editor trying to polish up the story. However, this criticism seems a little out of touch with both humanity and God. One might reasonably answer those same skeptics: Is it that far-fetched to suppose that the woman who give birth to the Son of God might also have a decent knowledge of Scripture? Mary's entire life is immersed in the Word. Of course, she'd quote the bible. As for singing, truly happy people sing little songs to themselves all the time. If people sing a little song of happiness to a newborn baby or over a job promotion or a good first date, how much more would Our Lady sing of her life so blessed by God?
Here Mary gives us an example of what it looks like to be a Christian believer consciously living in union with God: The more we allow ourselves to be steeped in the Word and grace, the more peace and happiness wells up in us through things like simple songs of joy. This raises a question for us, especially as Catholics: How is our relationship with the Word of God, particularly in the Bible? At any profound moment of our life, would we be familiar with Scripture enough to quote it, or a psalm enough to sing it? If not, our solemnity today is an invitation to enter deeper into the word, and eventually into that same blessedness that can't help but sing to the glory of God.