LUKE 21:25-28, 34-36
Come, Lord Jesus
by Rev. Msgr. Stanley J. Krempa
Reprinted with permission of "The Arlington Catholic Herald"
Home Page
To Sunday Gospel Reflections Index
Luke writes to explain that
Christ came to save everyone.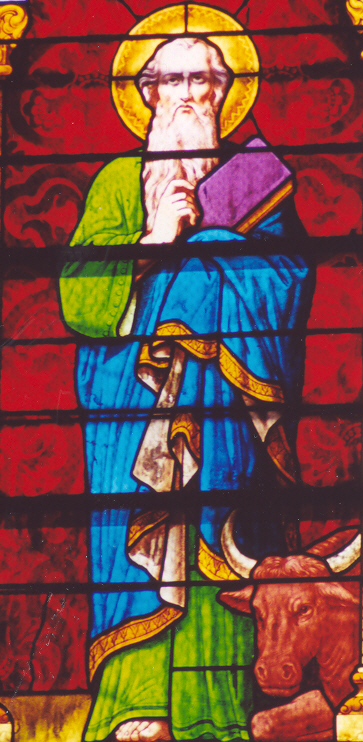 Jesus said to his disciples: "There will be signs in the sun, the moon, and the stars, and on earth nations will be in dismay, perplexed by the roaring of the sea and the waves. People will die of fright in anticipation of what is coming upon the world, for the powers of the heavens will be shaken. And then they will see the Son of Man coming in a cloud with power and great glory. But when these signs begin to happen, stand erect and raise your heads because your redemption is at hand."
"Beware that your hearts do not become drowsy from carousing and drunkenness and the anxieties of daily life, and that day catch you be surprise like a trap. For that day will assault everyone who lives on the face of the earth. Be vigilant at all times and pray that you have the strength to escape the tribulations that are imminent and to stand before the Son of Man."
In his poem, "Fog," Carl Sandburg describes the fog rolling in quietly "on little cat feet." Advent is like that. Last week, we celebrated he great solemnity of Christ the King. This weekend, we come to church and are struck by the stark absence of decoration. Advent comes quietly "on little cat feet" and seems to catch us off-guard. Yet, Advent is a refreshing time of the year because it calls us to begin again.
Advent is an ancient season that prepares us for the coming of the Savior. What does that mean for us? Jesus was born once in Bethlehem and will never be born there again. Advent looks to a different kind of coming. St. Paul and the Book of Revelation both repeat a prayer popular in the first Christian communities. They prayed "Maranantha" or "Come Lord Jesus." They prayed for the Lord to come in glory. Sometimes the injustice and evil in the world can seem so overwhelming, it's spread so think, that a person will pray. "Come, Lord Jesus. We tried all we can but it is too much for us."
We probably don't pray for the end of the world but we do pray for the end of an unjust world, a world where people are seen as disposable, where stories of violence, scandal, death and war fill the daily paper. We want a world that is in accord with God's plan and purpose. Such a world needs the presence of Christ.
This Advent, we can truly pray, "Come Lord Jesus." Come, Lord Jesus, into our troubled and perhaps fractured families. Help us to regain trust, respect and care for each other. Come, Lord Jesus, into abortion-clinics so people can realize once more the sacredness of human life and the horror of abortion.
Come, Lord Jesus, to the Middle East and enable leaders there to see the potential and power of peace for their people and for their land. Come, Lord Jesus, to your church and cleanse what must be cleansed so that your face and your truth can shine out again from every priest and every parish. Come, Lord Jesus, to refugee camps and enable leaders to remove the death, displacement and divisions caused by war. Come, Lord Jesus, to those places where people are unemployed and give them strength and wisdom in their days ahead. Come, Lord Jesus, to hospital rooms and nursing homes and let the loneliness there recede as your presence enters through friends and family. Come, Lord Jesus, to those suffering the loss of a loved one at this time of year and revive their faith in eternal life and renew their trust in you. Come Lord Jesus, to all inhabitants of our earth that we would respect the world, our common home, that you entrusted to our care. Come, Lord Jesus, to lives that have forgotten you or rejected you. Come, Lord Jesus into our hearts and minds that we might recognize and fulfill your will in all sectors of our life. These are the comings of Christ for which we can all pray. In this sacred season of promise, we can spend time reflecting on the words of the great Advent hymns and of our Advent Scriptures. Advent is a time when each of us and all of us together as a church can pray with the very first Christians, "Come, Lord Jesus."