Mark 1:29-39
When Jesus Walks Away
by Rev. Robert Wagner
Reprinted with permission of "The Arlington Catholic Herald"
Home Page
To Sunday Gospel Reflections Index
Mark wrote to explain Christ
to the new Gentile converts.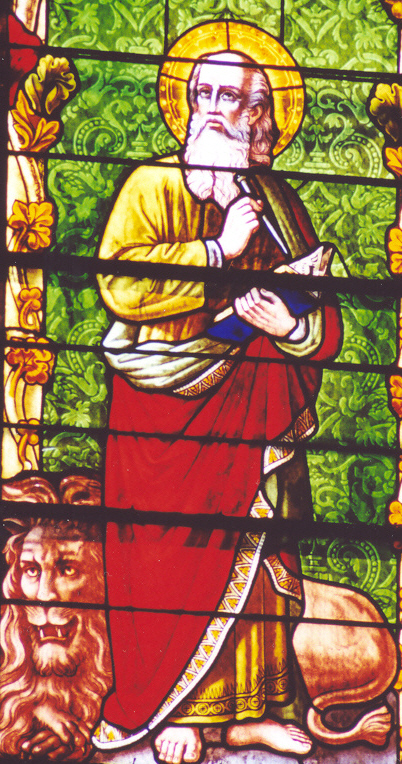 On leaving the synagogue Jesus entered the house of Simon and Andrew with James and John. Simon's mother-in-law lay sick with a fever. They immediately told him about her. He approached, grasped her hand and helped her up. Then the fever left her and she waited on them.
When it was evening, after sunset, they brought to him all who were ill or possessed by demons. The whole town was gathered at the door. He cured many who were sick with various diseases, and he drove out many demons, not permitting them to speak because they knew him.
Rising very early before dawn, he left and went off to a deserted place, where he prayed. Simon and those who were with him pursued him and on finding him said, "Everyone is looking for you." He told them, "Let us go on to the nearby villages that I may preach there also. For this purpose have I come." So he went into their synagogues, preaching and driving out demons throughout the whole of Galilee.
There is a flurry of activity in the passage we hear this week from the Gospel of Mark. Preceding this Sunday's reading, Jesus cast a demon from a man in the synagogue of Capernaum. Our Gospel begins when Jesus left the synagogue and entered the home of Peter, where, encountering the apostle's mother-in-law with a fever, He healed her.
The word of His miraculous deeds in the synagogue and at Peter's house must have spread, because at sunset, crowds had gathered at Peter's door looking for Jesus. The whole town was there, each person bringing with them all who were possessed or in need of healing. We can imagine that it took well into the night for Jesus to meet all who were physically, spiritually and mentally broken. The Gospel tells us that when it was over, Jesus "cured many who were sick with various diseases, and He drove out many demons."
That Jesus drove out demons and healed people of their illnesses is why the crowds flocked to His door. In these miraculous events, we see God's power over evil and the physical world. We see God's goodness. We see His love for us.
Yet, we note that while the evangelist Mark tells us that "they brought to Him all who were ill or possessed by demons," Jesus is not described as curing all of the ill and driving out all of the demons. Instead, he wrote that many were cured and many demons were driven out. Likely some were not cured. Likely some demons remained.
Some left their encounter with Jesus unchanged physically. Some of the blind still could not see. Some of the lame were not able to walk home. Some of the ill remained ill. Perhaps these are the ones who gathered again the next morning looking for Jesus. They wanted His healing. However, Our Lord had gone off before sunrise, after a brief night's sleep, so He could pray in solitude. When the apostles found Him to tell Him about the crowds awaiting His arrival back in town, we may be surprised to hear that He did not return to them. Instead, He took His apostles with Him to other towns, where He preached the kingdom of God, healed many others and cast out many demons in those places.
What are we to think of those from whom Jesus walks away? What are we to think of those He does not cure?
No doubt there are times in our lives when we have felt like the one who came to Jesus and left unhealed. Certainly we have prayed for ourselves or another who was in pain, in danger or facing difficulties, and our prayers seemed to fall on deaf ears. Perhaps we thought that Jesus was ignoring us. Maybe we felt as if He chose to walk away.
Yet, we know that Jesus does not turn His back on us. We know that He, along with the father and the Holy Spirit, surround and encompass us with their divine love. With faith, we can trust that each time that we encounter Our Lord, whether we feel healed or not, we are changed. It may be that we are strengthened to face difficulties ahead. It may be that God has made Himself seem distant so we rely on our faith to find our hope in Him. Whatever the case may be, when we trust in God, we receive what is best for us in that moment, and we can only find peace when we believe this to be true.
In Capernaum, many were healed and many demons were cast out. Yet Jesus changed the lives of all who met Him with faith. All who saw His divine power in His healing. All who knew His unending love in their encounter with Him. All who heard His words of truth and came to know that the Kingdom of Heaven was at hand for them.
When we pray, may we meet the Lord with true faith, knowing He will take away our pain, our sickness and our brokenness if that is His holy will, always trusting that whatever He offers us, it is for our good in this life and the next. The evil one tempts us to believe that the Lord turns His back on us. Our peace and joy comes from knowing that He surrounds us with His divine love, speaks His eternal word to our hearts, and always hears our prayers.
Home Page
To Sunday Gospel Reflections Index